Ad2prosper Review: Good Marketing Plan For Profit?
Ad2prosper Review
Is a great satisfaction for me that when you on reading my Honest Review of the Ad2Prosper Program the which we analyzed with the objective to see really if Ad2prosper is a Legit program for that you do not lose your time and money.
In sense general, the Ad2prosper Program is a website where they promising financial freedom at a very low cost and without any effort. You will see that the platform claim that you can make $ 30 K after following a simple marketing plan. This denotes that Ad2prosper can be another great Scam.
Here you will observe the features of this opportunity online.
SUMMARY
Product Name: Ad2prosper
Website: http://ad2prosper.com
Price: Free to join
Business Type: Paid-to-Click
Rating: 1.5  / 10
Verdict: Is "Not Recommended"
n case you are "Tired Of Scams" and want to earn 4 figures monthly, make sure you check out the legitimate way to make money online below:
What is Ad2prosper?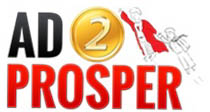 You will appreciate that Ad2Prosper Program is a network marketing platform, being really a pyramidal scheme (MLM) that sells advertising services. The Ad2Prosper is owned by "Proprofit Worldwide Ltd", located in London.
The Ad2Prosper Program informs you in sense general that it is not a PTC platform as you don't get paid to click and that they really are a network marketing platform.
Referent to this the Ad2Prosper Program confirm to you that its system consists of doing referrals, that is people that you invite to joining the platform with the objective of that earn me commissions every time they make an investment of money on the program on of the system is by this that the Ad2Prosper is a pyramidal scheme (MLM)
The Ad2Prosper Program system consists of that the people have the possibility can purchase advertising services, do higher upgrades, as well as referrals with this system.
With the objective of rewarding members for viewing ads and performing other simple tasks, the Ad2Prosper Program decided that also will be a PTC site.
How Does Ad2Prosper Work?
So, the Ad2Prosper Program apparently have an aspect complicated but really is not and to the continuation, you will observe like work this platform:
1- Registration and Startup Bonus of Ad2Prosper
Referent to this aspect you will see that the first thing you will see is that the platform claims you to sign up for the free account and view 20 ads to receive you a startup bonus. This implicates the bonus gives you $5.1 on your "Prosper Balance", $ 5 on your "Advertiser Balance" and 1 Direct Referral.
2- Buying referrals of Ad2Prosper
Of form generic, many people are joining Ad2Prosper Program singularly, without clicking on any affiliate links. Logically these people will become available for members that want to buy referrals on of the platform.
Below you will observe the Price List of Upgrading Ad2Prosper and its 5 membership levels:
Free: $ 0
Bronze: $15 / monthly
Silver: $ 29 / monthly
Gold: $ 59 / monthly
Platinum: $ 125 / monthly
You will see the 3 aspects fundamentals that do that the people to upgrade the Ad2Prosper Program:
1- To buy more referrals: In the case of the "Free" members can only buy 50 referrals.
2- To earn commissions on your referrals upgrades: Referent to this case you just earn monthly commissions from your referrals membership fees if you have at least the same membership. That is, when you are a free member, you don't earn when referrals pay for the "Bronze" membership unless you upgrade to "Bronze". Also, this is valid for the applies to the other upgrades.
3- To earn the 4 levels commissions:  Referent to this last aspect you will see that as a "Free" member, you just earn commissions from what your referrals buy. In the case of "Bronze" or "Higher" membership, you earn the referral of all the referrals of each referral buys. Logically in your 4 levels.
Here you will observe the compensation for all levels that is commission Structure of the 4 levels:
To mode of example, imaginatively we will say you are a "Silver" member and you buy 10 referrals. By another part, 5 people upgrade to "Bronze", and 5 people upgrade to "Silver". You will earn in commissions:
a) 5 x 0.33 x $15 = $ 24.75 / monthly
b) 5 x 0.33 x $29 = $ 47.85 / monthly
TOTAL = $ 72.60 / monthly
And so on as each again time your referrals increase will be the product of #referrals x 0.33 x $ 15 (Bronze) and $ 29 (Silver).
3- Viewing Ads at Ad2Prosper: Referent to this form of earn money with this platform you will see that you must take 41 hours to earn $1 viewing Ads.
The Ad2Prosper Program imposes to you that to keep your membership active, you need to click and view a couple of ads every day, which varies from 15 "Bronze" to 5 "Platinum".
Now when you viewed the 20 ads (15 seconds each), you will get the bonus, although not the direct referral as the Ad2Prosper Program promised initially.
Also, you will confirm that the "Prosper Balance" can only be used to upgrade your account or for buy referrals, and the "Advertiser Balance" only be used to buy advertising on the system.
You will see that the Ad2Prosper Program, will give you its bonus, and they will say to you that must upgrade to the "Bronze" membership within 2 days, otherwise, they would delete your prize. Being this is an aspect negative because never the platform warned you of this situation.
It is good to say to you that in the platform you will have 2 days to upgrade to "Bronze" to keep the bonus that they give to you.
In a sense general for you to make money with referrals, you will see that these referrals are people who you invited to join the website via your affiliate link.
This implicates that at the moment that the people do click on your link and sign up with Ad2Prosper Program, they become your referral and you will earn 33% from all their purchases and actions on the website.
Now You Will "Make Money" when referrals pay their membership fees, buy ads have other referrals and you view ads. Also, You will earn commissions through your referral's referrals, up to 4 levels in case you have the "Bronze" membership or "Higher" membership.
The Ad2Prosper Program will sell them to you referrals because is very complicate getting referrals with your affiliate link is quite difficult, they will sell them to you. Being this is also an aspect negative of the platform.
PROS And CONS Of Ad 2 Prosper
Here you will appreciate the Pros and Cons of Ad 2 Prosper Program:
PROS
1- You will have a low cost to get started and establish your business.
2- You will see that the platform has a "Back Office" very professional.
3- You will observe that you can get referrals from the company and that result be easier than in most pyramidal Scheme (MLM) of other companies.
CONS
1- Really some aspects of the compensation plan do not give good orientation to you.
2- The major part of income examples is false and really this is not what you will earn, all appears a fiction.
3- The information between the back office and front-end company website is not convergent.
4- You will see that exist some complaints from people stating they upgraded and never they received paid or referrals of the program.
5- The Support of the platform not is of quality.
6- The Ad 2 Prosper Program does not have Training or Tools adequates for you to achieve referral with its system.
7- Really you don't earn credits when do clicking or viewing ads, only help you to stay active.
8- With the Ad 2 Prosper Program you do not have a refund policy that warranty that you that your money will be would return.
Verdict Final: Is Ad2Prosper A Scam?
Doing In short resume, we can say that the Ad2Prosper Program is not a Scam but really its a business model that totally relies on recruiting new people, and finally you will observe that not is more than a pyramidal scheme (MLM). And with this type of system, you can lose its investment at time and money.
For this reason, the

Ad2Prosper Program is "Not Recommended".
There are better Programs and more effective ways to earn as an affiliate than the Ad2Prosper Program. Of this way that I give you to continuation:
Definitely, if you want to learn how to achieve quality visitors to your website and build a list, I recommend you can join My # 1 Awesome Niche for that you learn by working with affiliate marketing. It really takes time and effort, but it is an honest Program where you will teach you real online marketing. Join to continuation:
Thanks so much for your interest.
A.Karell
Are You interested in Build A Solid Future from the comfort of your home?
My #1 Awesome Niche is absolutely the best resource for awesome Start In Online Business, with fast and unlimited cash and you will learn the Strategic Planning To Help You Build A Money-Making Affiliate System. Get a Free Starter now and You can build One Free Website.
Tired of Scams? Click Here To See My #1 Awesome Niche.
If you have any questions or comments about the Ad2Prosper Program, feel free to let me know below, thanks for reading my honest review.